Jennifer Kay Lewis
                         "A Child, More Than Anyone Else, Is A Spontaneous Observer Of Nature."                                        Maria Montessori
Mom announced she was gonna do her normal cleaning and her kiddies wanted to 'escape' to the outdoors.   Plus, we were overwhelmed by the various unpleasant scents and smells of her specific cleaners; and we hated the noise of the vacuum cleaner as it somehow seemed to be invading our 'space.'
Let's see … what can we do now?  In little short, we jumped to action and catapulted outside and do some more 'investigating.'   (surely, there was some thrilling adventure 
waiting out there just for us … we had always found a trail needing exploration until the seemingly simple world of Mom or Dad might summon us back to reality!)
We had just 'rescued' a little, runt piglet that had been rejected by the mamma sow.  Our adopted little pig needed a proper name.  After brief consideration, we chose a name for our rescued pig and decided the name 'Barney' seemed fitting for him.)
We asked our Dad for a little help in materials so we could fashion a small fenced-in pen for our newfound rescued pet.  By now, we had our Dad well-broken in so he might provide us with whatever resources we would need, (provided he knew we couldn't hurt ourselves nor do any real damage with whatever he chose to give us.)
As kids might reckon, it wasn't fair to make Barney be caged-up in his new pen without another animal to keep him entertained.  Therefore, we assigned a friend for Barney.  Our terrier dog, Jack would answer that call.  (poor ol Jack, he sure got run through the mill.  We dressed him in Lots of costumes, made him ride our horse strapped in the saddle, fed our dirt pies to him, and now he was in a pen with a pig!)  The two of them would be great friends and we most likely, had visions of them riding off merrily into the sunset together.  Who knows what kids think?
But, then we abruptly remembered we needed some supplies.  We better get to town before the stores close.  (at least, for now, we had 'introduced' Jack to Barney and all seemed agreeable there.)
Without 
much preparation, brother Bill grabbed the hoe and commenced forming a primitive road so we could make a jaunt into  our local store to get more provisions.  (in real life ~ he was Billy, in 'our' make-believe  world, he was Don.)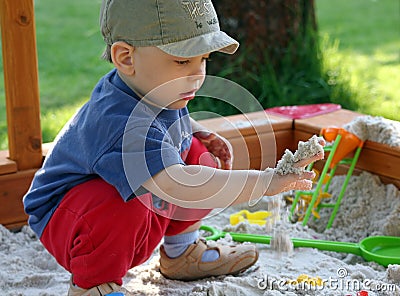 Billy, (I mean Don) usually got the construction jobs.  He was eager to build this avenue!
Youngest brother, Kerry Mark gleefully became Tom, the twin brother of Don.   Tom was in charge of operations; he managed the vehicle fleet and monitored the daily reserves and helped us coordinate our job activities.  Tom held a very responsible position and he kept our equipment in fantastic condition.
For these adventures, I became Martha Jane.  While Don and Tom were busy with their respective 'assignments,' my job as Martha Jane was to help wash and vacuum the truck  and prepare foodstuffs and drinks to bring-along for the lengthy journey to town and the long trip back to the farm.                                                                                                                                         
My older sister, Colleen, was off doing her own 'thing' enjoying close-up views of the natural countryside by horseback.  Colleen had gone riding earlier with her friend, Sheila; she was an extraordinary 'gifted' horse-lover and horse-trainer.  They often rode together in our rural areas.  Unlike my talented and fearless, equestrian sister, I adored the make-believe characters that came to life in the dirt; or, I could be found tucked-away in the back bedroom making sweet music on my beautiful antique upright piano.
Uh oh … suddenly we heard the clamor of Barney and Jack.  Don/Billy abruptly stopped construction on our road and Tom/Kerry and I dropped our imagined duties and scurried behind Billy.
Sorry, I have got to go  for now.  Be back tomorrow.  Ya'll come back now, y a hear!?   
Growing In Christ,
Jennifer K. Lewis
Please Leave a Comment,
Will you Kindly 'click' the LIKE Button and/or FOLLOW Button.
"Thank You So much for allowing me to take your time."                                                                                                           May our Lord God Richly Bless Your Life!